This Church in Tampa, FL, Has a Revamped Kitchen Floor After a Masterful Job by Our Tile and Grout Cleaners
November 05, 2022
Kitchens in commercial settings should always be pristine and hygienic. However, surfaces in these areas endure constant use, and they can be a challenge to maintain. Stained grout lines and dingy tiles might require more than a store-bought cleaner, and when this happens, maintenance becomes a headache. A church in Tampa, FL, was equipped with a kitchen. Since the area was constantly used, the floor deteriorated, and it looked grungy and unsightly. The facility manager noticed the problem, and he was not happy with this situation. After considering his options, he decided to look for professional assistance.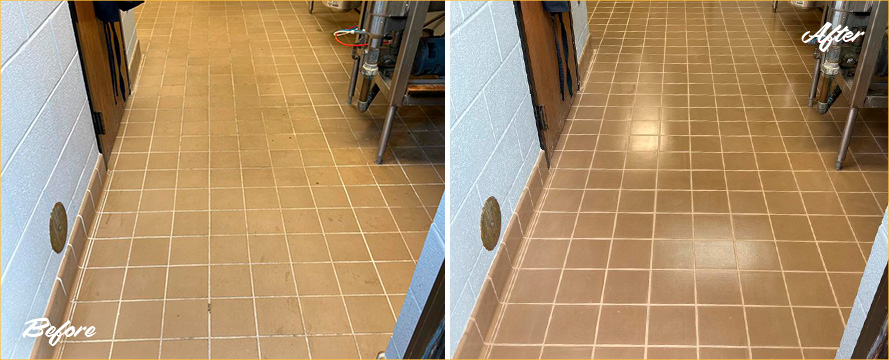 Fortunately, the solution was just one click away. The facility manager went online and typed
tile and grout cleaners in Tampa, Florida
, on his search engine, and at the top results, he found Sir Grout Tampa. After browsing our website, reading some of our blogs, and going through our customer's feedback, he was convinced we were the right choice. Hoping to solve his problem quickly, he filled out the "Request a Quote" form, asking for a free evaluation.
The request was processed quickly, and shortly after, we arrived at the church to inspect the surface. Since the facility manager was expecting our visit, he welcomed us, and we began the assessment. As we entered the kitchen, we noticed the floor was in poor condition. After enduring years of wear and tear, the tiles had decayed, acquiring a run-down appearance. As a result, the entire area looked dingy and unsanitary. To add to this, the surface was unsealed, leaving the floor exposed to all sorts of external agents, which can lead to further deterioration. To prevent future damage, it was necessary to apply a special sealant.
After discerning the problems and sharing our insight, we discussed a solution with the manager. We had determined regular cleaning wouldn't be enough, and the surface needed professional treatment, so we offered our tile and grout cleaning services. With our top-notch process and high-end equipment, we would rectify the damage, revamp the surface, and give the floor a complete overhaul. Before providing a quote, we proved the efficacy of our methods by performing a brief test on the surface. Impressed with the outstanding results, the manager immediately hired us.
A couple of days later, we returned to the church with everything we needed to restore the surface. To ensure optimal results, we followed a thorough multi-step process. We began by cleaning the surface using our exclusive cleaner. Our product is made with top-quality ingredients and it doesn't leave a residue, so it won't cause any damage. For the next step, we began the sealing process.
First, we sealed the grout lines with ColorSeal. Sir Grout's flagship sealant provides remarkable defense and outstanding results. It wards off dirt, grime, and other external agents. Our sealers also repel UV rays, minimizing decay in areas subjected to solar impact. ColorSeal gives the grout a brand-new appearance, and our clients can choose from a wide range of colors, so they can surely find the most adequate to their tastes.
After that, we applied a coating of MicroGuard. This added a stunningly beautiful finish, greatly improving the appearance of the surface. Thanks to its highly durable composition, it offers superior strength, durability, and resistance. An unbreakable armor, it protects the surfaces from abrasion, staining, and chemical substances, minimizing deterioration from day-to-day wear. MicroGuard is ideal for commercial settings because it offers a long-term solution with hydrophobic protection that repels dirt and other debris, resulting in significant reductions in cleaning and maintenance costs. With proper care and maintenance protocol, the coating can last up to five years.
Our work finished with a successful restoration, the damage had been addressed, and the kitchen floor had received a well-deserved renovation. With our goal accomplished, it was time to call our client and show him the results. Upon entering the area, the facility manager expressed his satisfaction. He was overjoyed because the floor looked perfect and hygienic, better than he had imagined. After examining the surface, he sincerely thanked us and assured us he would recommend our services to everyone.
Kitchens, especially in commercial settings, are busy areas. Due to this wear and tear, these surfaces can deteriorate quickly and they require proper care. Following Sir Grout's recommendations is essential to achieve optimal maintenance procedures. We recommended setting a regular cleaning routine using only pH-neutral, soap-free cleaners
Sir Grout's Natural Hard Surface Cleaner
. Our product is the best option in the market, offering remarkable results and many benefits. It is also non-toxic and safe for everyone.
We don't recommend using soap-based cleaners or substances with acidic properties. These products contain harsh agents that can have a negative impact on the surface. They also leave a residue that can cause several issues like stains, discoloration, and other damage. When cleaning the area, always use clean mops, let the floor dry completely, and make sure to prevent foot traffic on the wet surface. Avoid using abrasive tools because they can scratch the tiles.
Do you want to revamp the dingy surfaces in your property? Don't worry, Sir Grout Tampa's tile and grout cleaners can help you. Rest assured, our top-notch processes are effective in any setting, including bustling commercial environments. Don't wait any longer and contact us by calling
(813) 948-2488
or Schedule a FREE Quote for a free consultation. To learn more about our commercial tile and grout restoration services,
click here
, and discover what our maintenance program can do for your business. Likewise, please consider subscribing to our
newsletter
so you don't miss out our latest promotions and updates.